-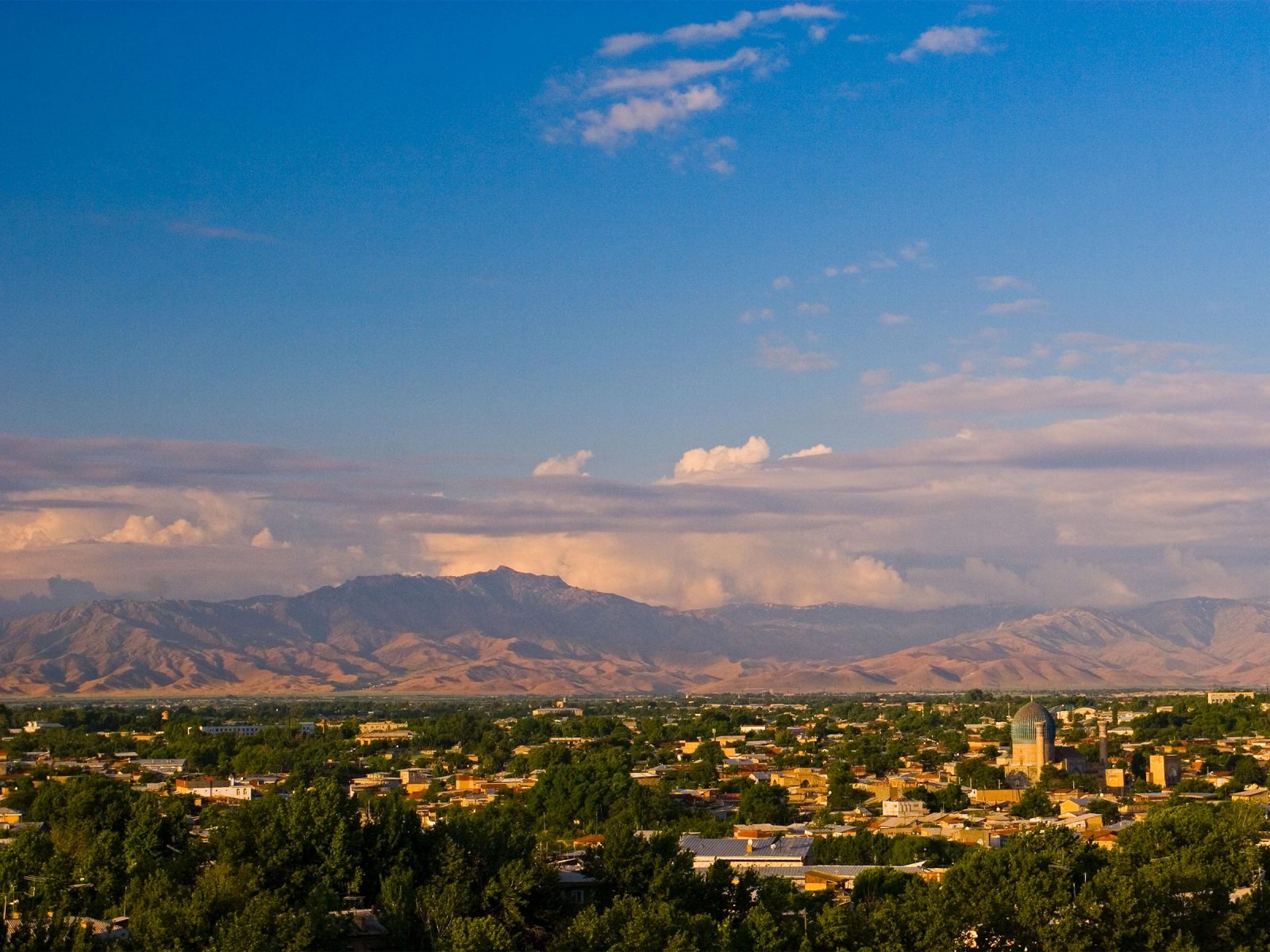 View of Samarkand, Uzbekistan. Photograph © Michele Falzone / Alamy Stock Photo.
Afrasiab
present-day Samarkand, Uzbekistan
To travel from Central Asia to China, a number of routes were available to the Sogdians. This section will describe one of the most treacherous of these routes, as described in medieval accounts of overland journeys of Buddhist monks such as Xuanzang 玄奘, and studied by archaeologists since Aurel Stein's first expedition in 1900. Starting in the city of Afrasiab in Uzbekistan and ending in Chang'an 長安 in China, this route highlights the challenging terrain the Sogdians were willing to traverse to pursue new opportunities.
Located in a fertile Zerafshan River valley at the junction of trade routes between India and China, the city of Afrasiab played a key role in commerce along the Silk Roads. As one of the most important cities in Sogdiana (along with Bukhara, Paikend, Kesh, and to a lesser extent, Panjikent), its economy was based on a combination of agriculture, mining, metalworking, and trade. By the 7th century, commerce along trade networks led both Afrasiab and Chang'an (modern-day Xi'an 西安) to develop into cosmopolitan centers larger than any others in Europe at the time. However, they were separated by over 3,000 miles (approx. 4,800 km) of mountains and deserts. The perilous journey could take over six months and covered a distance equivalent to walking across the United States from coast to coast.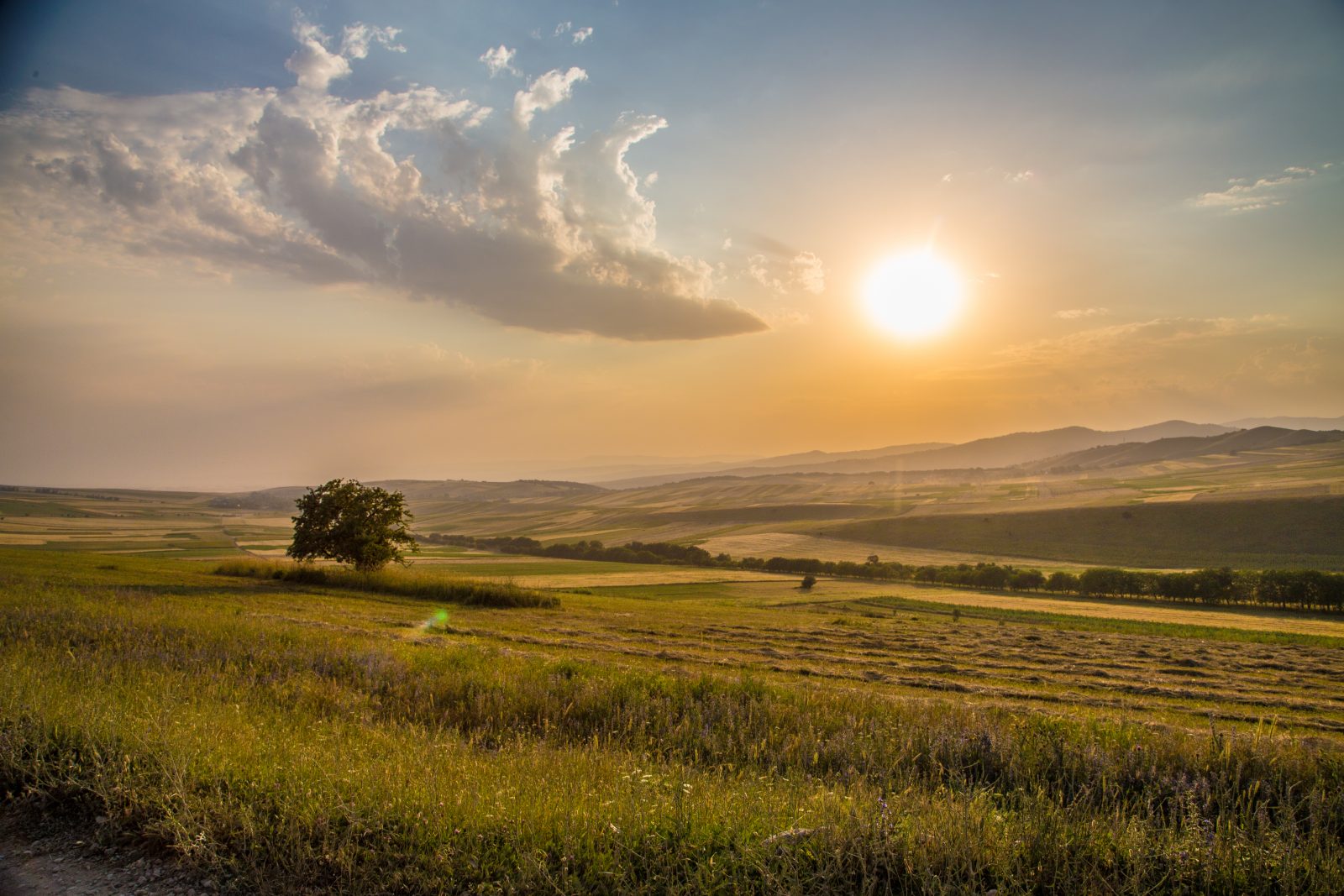 Sunset on the way to Osh. Photograph © Fabian Scholz
Ferghana Valley
spreading across present-day eastern Uzbekistan, southern Kyrgyzstan and northern Tajikistan
Heading northeast from Afrasiab, travelers could skirt unforgiving mountain ranges and make their way instead into the Ferghana valley, where irrigation from the Syr Darya and its tributaries created a land so fertile that it is now known as Uzbekistan's breadbasket.
Conditions were particularly favorable to animal husbandry, and the region was renowned for breeding exceptional steeds, stemming from the same stock as royal Persian breeds and fed on the nutrient-rich alfalfa grass covering the valley floor. As early as 101 BCE, Ferghana horses already held legendary status in China, and were requested from Central Asian rulers by the Chinese emperor Wu of Han 漢武帝. Thereafter, Ferghana horses were regularly brought to China as tribute and trade items, with the Sogdians playing a key role in their transportation and care. The Ferghana Valley is in part defined by its southern geographical boundary, the Alay Mountains, the northernmost range of the Pamir Mountains. Finding a way through and over these mountains would begin the next stage of the Sogdians' journey.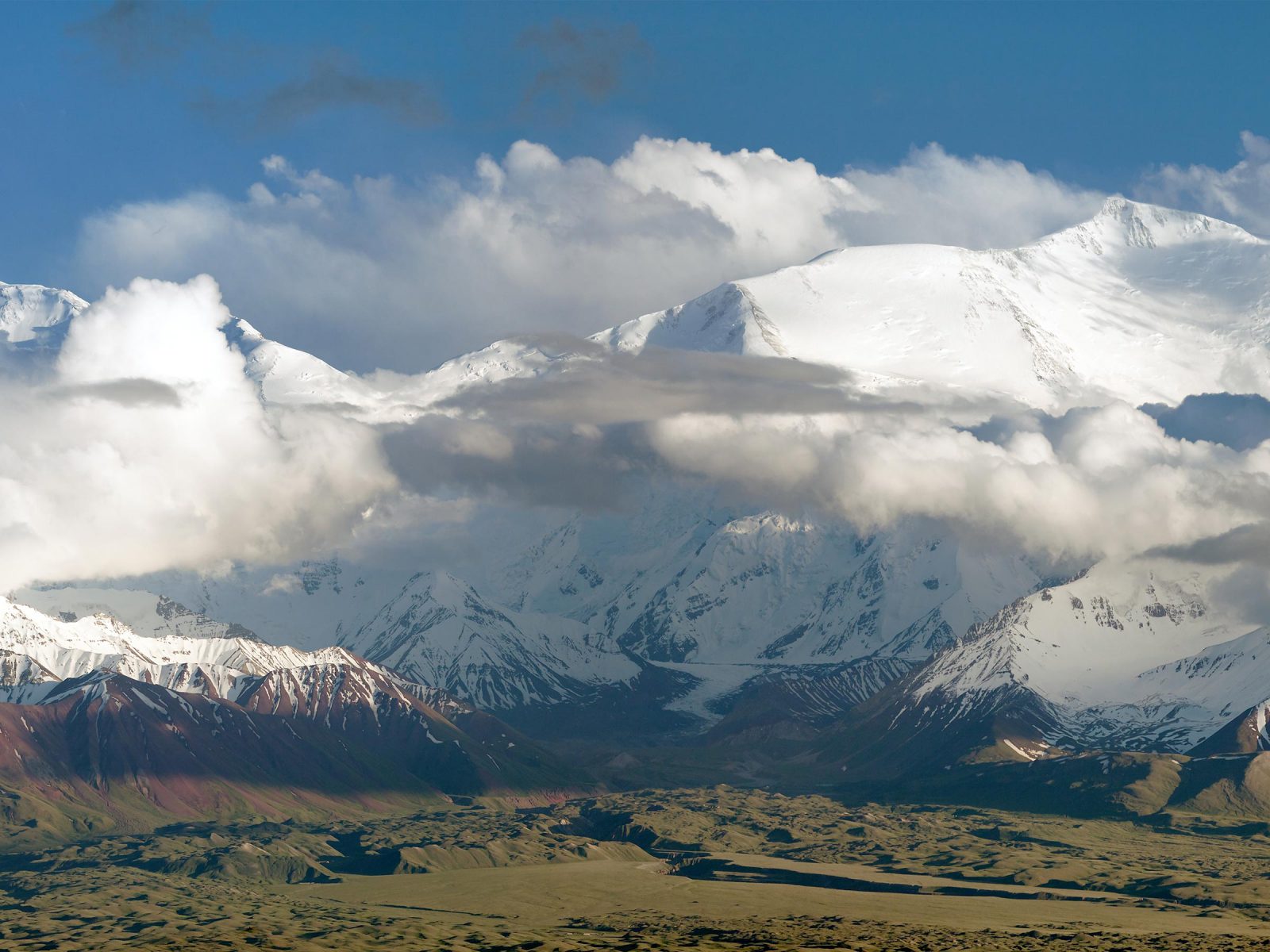 Panoramic view of Lenin Peak from Alay Range. Photograph © iStock.com/Daniel Prudek.
Pamir Mountains
located predominantly in present-day Tajikistan
The Pamirs are a complex mountain chain connecting several of the highest ranges in Central Asia, together known as the "Roof of the World." Their scale and placement have long made the Pamirs one of the most significant obstacles to overland trade between Central Asia and China.
Caravans leaving the Ferghana Valley would have to confront the northern and eastern ranges of the Pamirs, with several snow-covered peaks rising above 20,000 feet (approx. 6,100 meters), alpine ridges, and glaciers. Starting their trek across the Pamirs, caravans took the Taldyk Pass at 11,860 feet (approx. 3,600 meters), which allowed them to navigate through the eastern portion of the Alay Mountains. Once through the pass, caravans would arrive in the Alay Valley, an open space within the Pamirs bounded to the north by the Alays and to the south by the Trans-Alay Range. This wider, flat-bottomed valley with meandering rivers was much easier to traverse. But this respite would be short-lived, as travelers were eventually funneled eastward out of the valley and through another difficult pass at Irkeshtam at 9,680 feet (approx. 2,950 meters) that would take them between the Pamirs and the Tian Shan Mountains. Just as their journey through the mountains was coming to an end, they would have to contend with yet another obstacle: the Taklamakan Desert.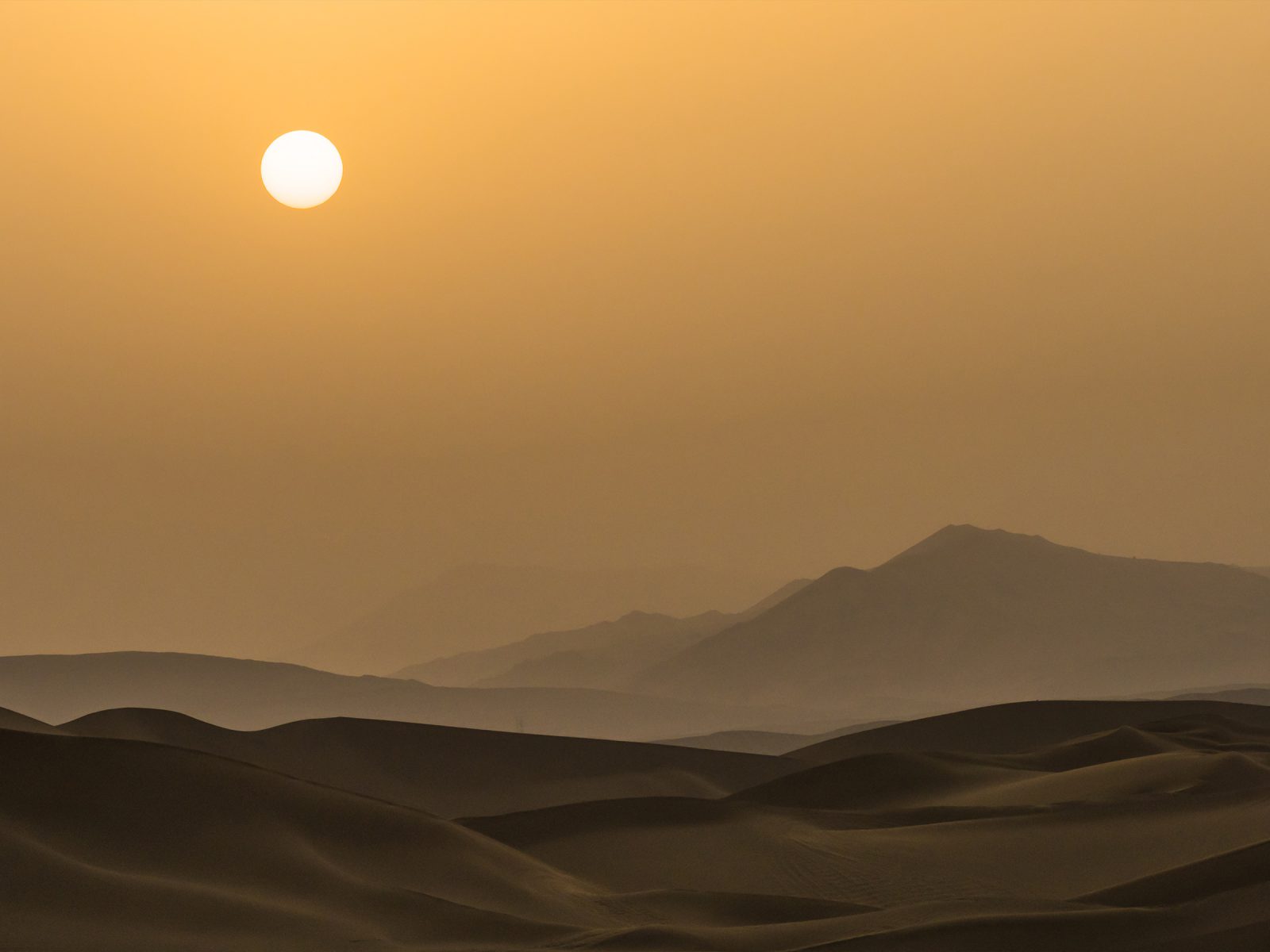 Silhouette of sunset on the desert in Xinjiang Uygur Autonomous Region, China. Photograph © iStock.com/Centuryboy.
Taklamakan Desert
located in present-day Xinjiang Uighur Autonomous Region 新疆维吾尔自治区, China
Extending about 600 miles (966 km) from west to east, the Taklamakan Desert presented a formidable trial for the Sogdians as they traveled by horse, camel, and foot.
Not only is the Taklamakan one of the largest sandy deserts in the world, it is also flanked by significant mountain ranges to the north (Tianshan), west (Karakorum), and south (Kunlun). In winter, temperatures can fall to −4° F (−20° C), while summer temperatures typically rise to 100° F (38° C). In the spring, wind currents often create hurricane-force dust storms, filling the atmosphere with clouds of dust. This combination of heat, cold, wind, and sand makes the Taklamakan a daunting obstacle for even the most seasoned traveler. It is with good reason that various interpretations of the desert's name include "Place of no return" or "Once you get in, you'll never get out."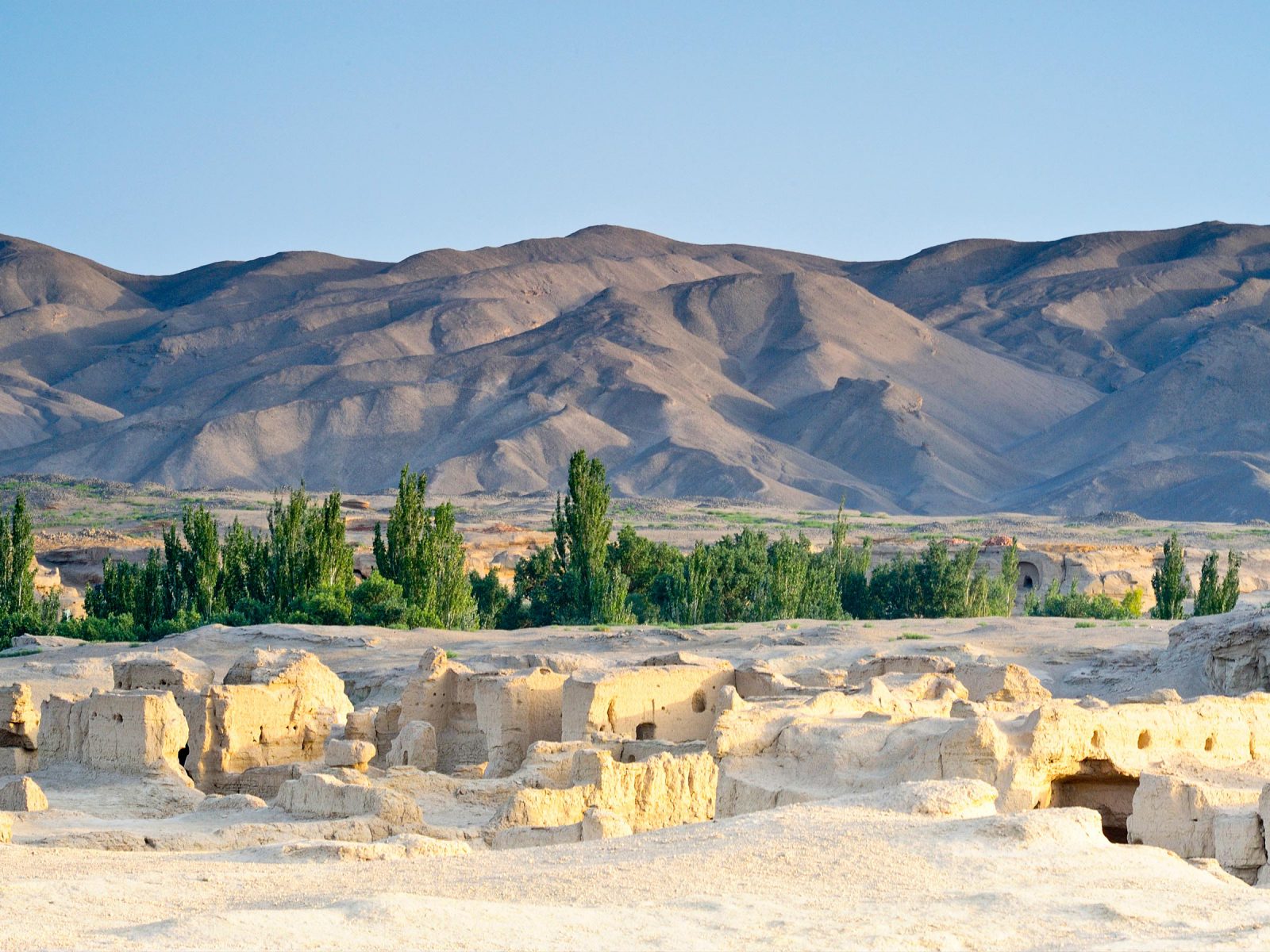 Ruins, desert, trees, and mountain. Photograph © iStock.com/dwatanabe.
Turfan
吐魯番
located in present-day Xinjiang Uighur Autonomous Region 新疆维吾尔自治区, China
Water runoff from the towering Bogda and Qoltag Mountains flows into the northeastern margins of the Taklamakan, creating the oasis of Turfan.
Along the desert's northern and southern edges, this water runoff made agriculture possible and allowed for the development of sustainable towns. Turfan acted as a border zone between nomadic peoples of the north and settled oasis dwellers of the south. With an economy based on agriculture and fruit farming, the area's mulberry trees, apricots, melons, and grapes (the last introduced from Central Asia) became famous in China. Places like Turfan became important trade centers on the Silk Roads, hosting large Sogdian populations in what was then known as Gaochang 高昌, an independent kingdom eventually subdued by China's Tang dynasty in 640 CE.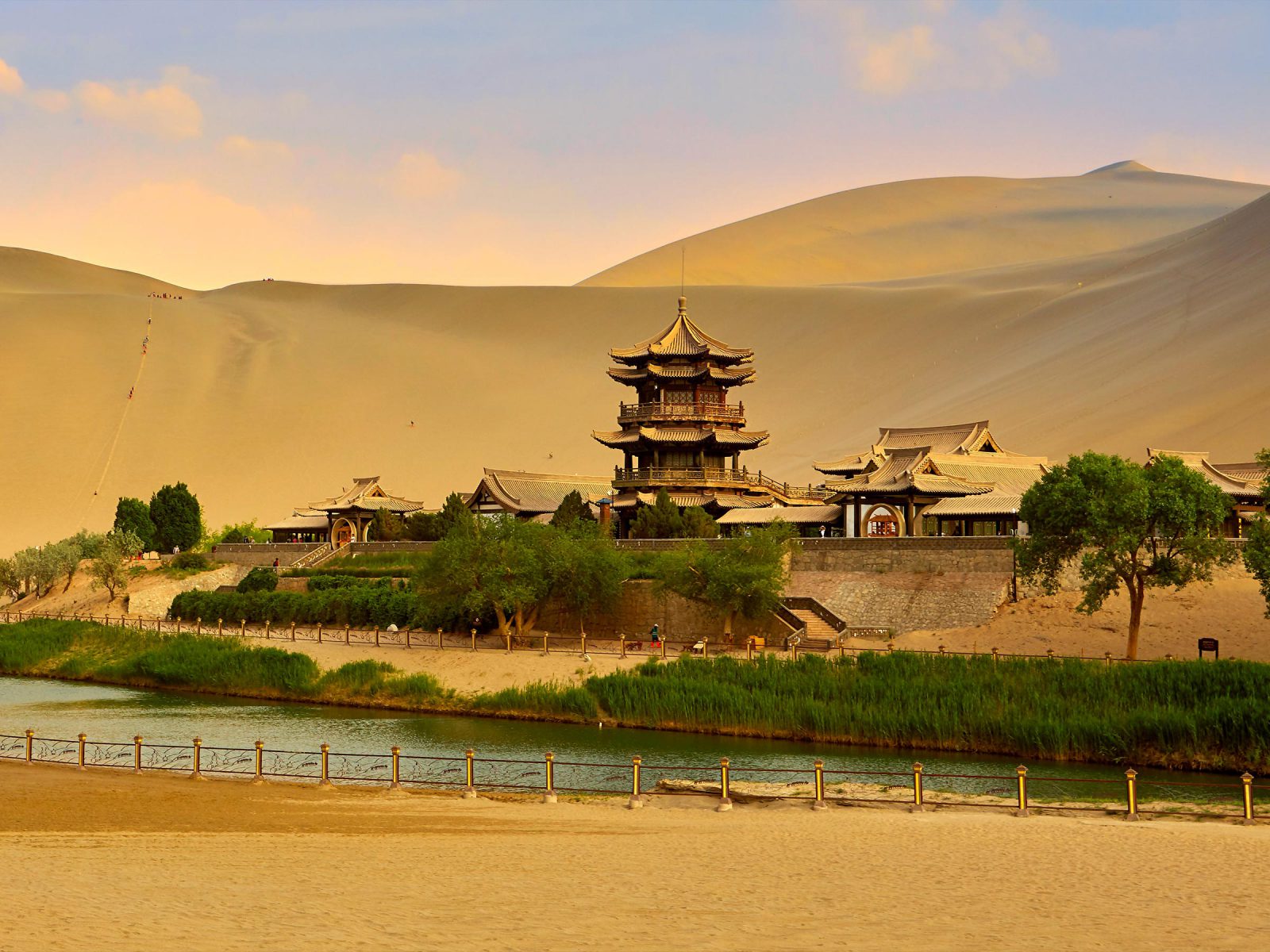 Dunhuang Crescent Moon Spring or Yueya Spring, Gansu Province, China. Photograph © iStock.com/rickwang.
Dunhuang
敦煌
located in present-day Gansu Province 甘肃, China
The two main branches of the Silk Roads, running to the north and south of the Taklamakan Desert, converged at Dunhuang.
Similar to Turfan, the oasis at Dunhuang attracted merchants and settlers from Central Asia and the Indian subcontinent, who brought both exotic goods and new ideas to China. Buddhist monks and missionaries also gravitated to Dunhuang, and in 366 CE they established the first of what is now known as the Mogao Caves (Mogao Shiku 莫高石窟). This cluster of nearly 500 caves carved into the cliffs around Dunhuang is home to vividly painted Buddhist murals and sculptures. Owing to the dry desert conditions, tens of thousands of significant manuscripts and works on paper remained preserved and were rediscovered at the beginning of the 20th century.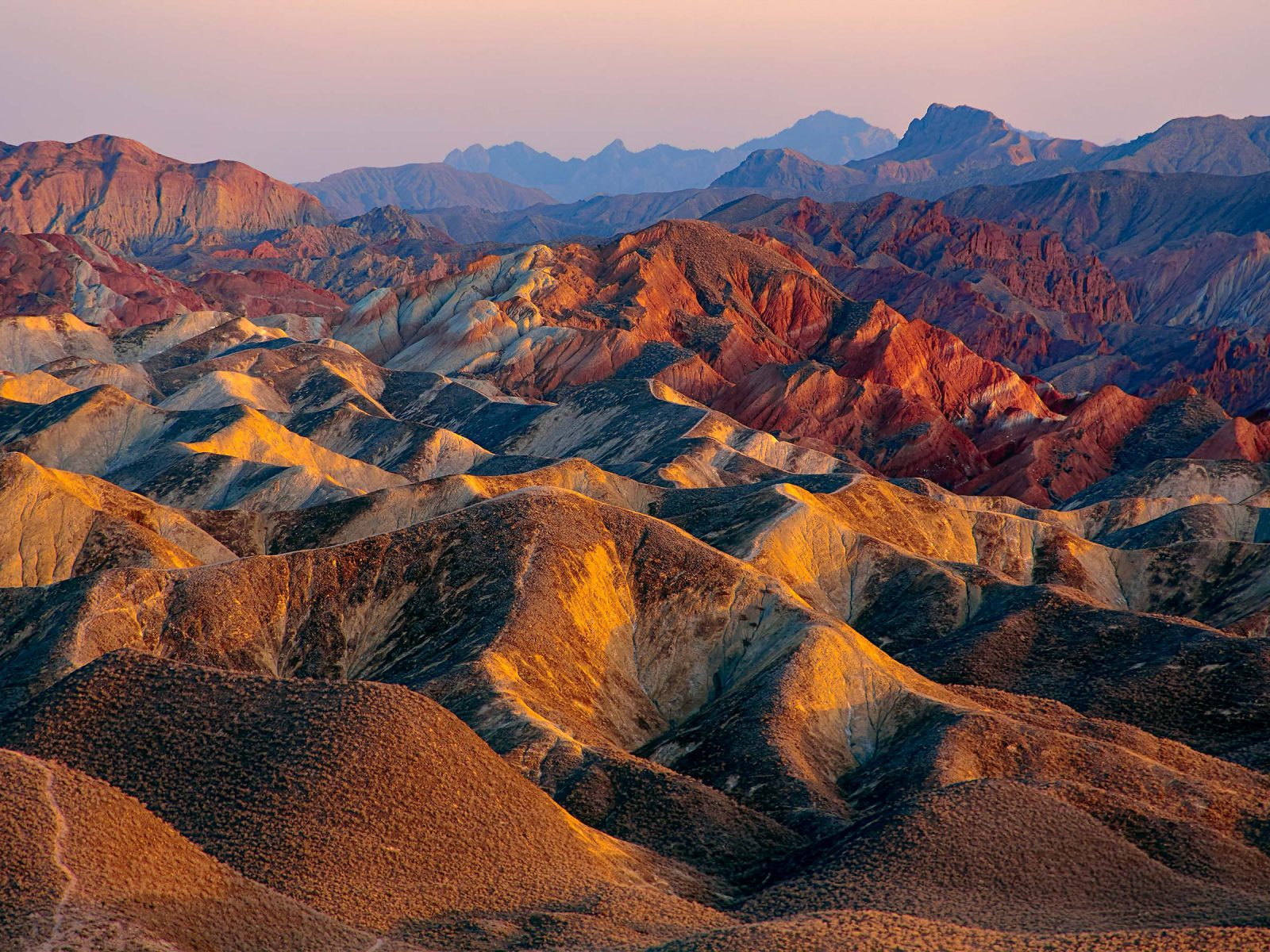 Zhangye Danxia landform in Gansu Province, China. Photograph © iStock.com/rickwang.
Hexi Corridor
河西走廊
Hexi Zoulang located in present-day Gansu Province 甘肃, China
Several caravan routes between Central Asia and China eventually funneled through a stretch of land known as the Hexi Corridor.
Flanked by the Gobi Desert in the northeast and mountains to the southwest, the Hexi Corridor provided a natural passageway to the Chinese heartland. The towns that developed along this corridor acted as important outposts and border garrisons. Pictured here are colorful rock formations near present-day Zhangye 張掖, formerly known as Ganzhou, an important oasis in the middle of the corridor. Moving southeast from here, travelers cleared the main Chinese border post at Wuwei 武威 (then called Liangzhou 涼州) and crossed one last mountain pass before finally reaching the Chinese metropolis of Chang'an 長安 (now Xi'an 西安).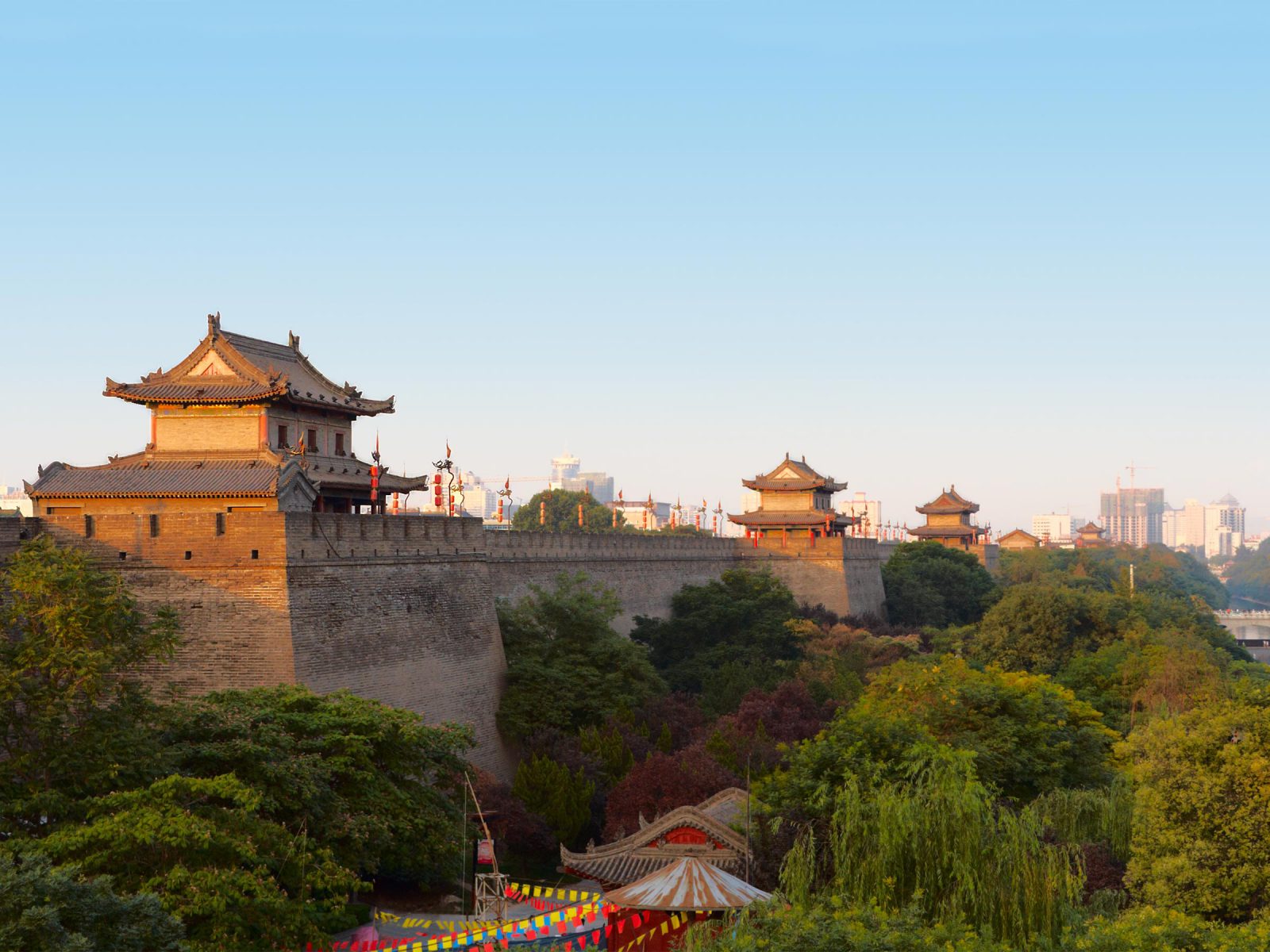 Xi'an city wall, Shaanxi Province, China. Photograph © iStock.com/zhuzhu.
Chang'an
長安
present-day Xi'an 西安 in Shaanxi Province 陕西省, China
The Western gates of the city of Chang'an led directly to the large Western Market where Central Asian merchants conducted their trade.
Chang'an acted as the capital of several ruling dynasties and during its heyday, just before 750 CE, had a population of nearly a million people. This bustling metropolis, with its thousands of restaurants, teahouses, and shops selling everything from gold to goldfish, was a prime destination for traders like the Sogdians looking to sell their wares or offer their services. Although Chang'an was the farthest east most Sogdian merchants traveled, the goods they brought to the city often went even farther, ultimately reaching as far east as Korea and Japan. Over time, the increased trade between Sogdiana and China led many Sogdians to make Chang'an their permanent home. A large community developed, conducting business and working at various crafts throughout the city, worshipping at its Mazdean temples, and running the local wine shops. These Sogdians were represented by a sabao 薩保, an appointed leader for political and religious issues in every city with a Central Asian population.