-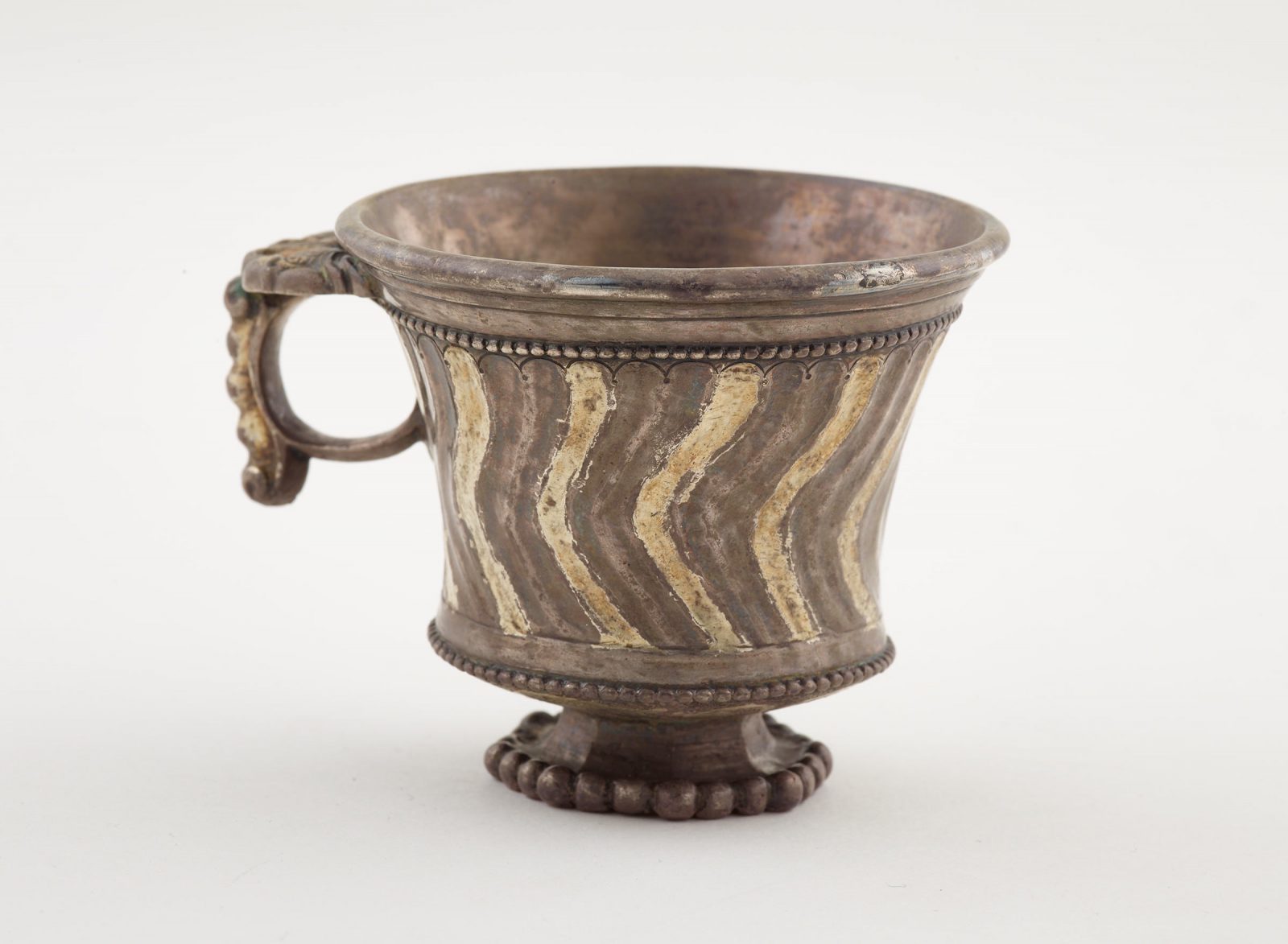 ---
Fluted Cup
This hammered silver cup in the Freer Gallery of Art features a lively band of serpentine flutes within a beaded frame. Picking it up to drink, the user would have placed an index finger in the loop handle and set the thumb on a flat rest marked by carefully observed elephant heads; Fig. 1. Only apparent when turned upside down, the cup's bottom is ornamented by a floral scroll on a textured ground; Fig. 2. Above it is an octagonal foot finished with beading like that on the loop handle. Aspects of these patterns are picked out in gold, which the artisan applied as a mercury amalgam and adhered through heat.
Boris Marshak (1933–2006), a Russian archaeologist who spent more than fifty years excavating the Sogdian ruins at Panjikent, Tajikistan, published this cup many times. He argued that it illustrates classic elements of the Eastern School of Sogdian metalworkSogdian Metalworking Learn more about Sogdian metalwork, defined by beaded borders, floral scrolls, and a surface textured by ring punching. Like other examples of that school, it also exhibits a preference for naturalistic elements on the handle.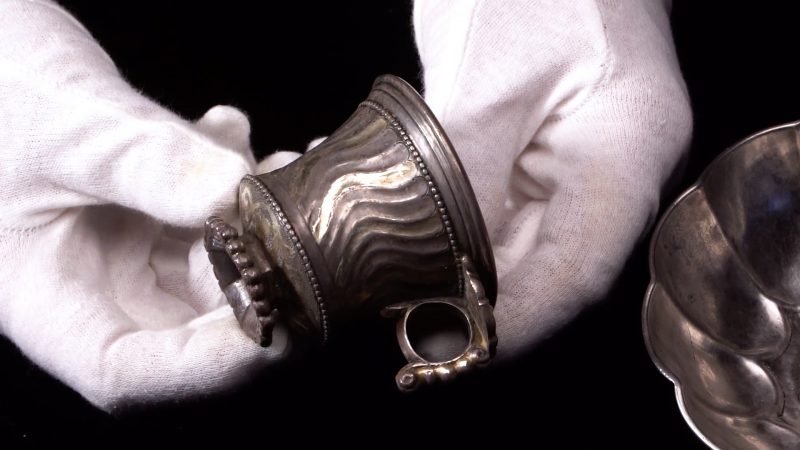 Early versions of this type of stemmed cup were reaching China by the beginning of the 6th  century. Over time, these exotic imports grew in popularity among Chinese elites, and late 7th-century faceted cups with thumb rests were discovered in the imperial Chinese hoard at Hejiacun 何家村, Xi'an 西安省 . The Freer's cup was also purportedly unearthed in China: A previous owner, the Swedish collector Carl Kempe (1884–1967), was told it was found at Luoyang 洛陽市 , an international, cosmopolitan city in the Chinese heartland.
by J. Keith Wilson
Models (C) Freer|Sackler.
Several were unearthed in 1970 in the Northern Wei remains of Pingcheng 平城 at Datong 大同 , Shanxi 山西; see Asahi Shimbun Co. 朝日新闻社, ed., Bunka daikakumei chu no Chugoku shutsudo bunbutsu 文化大革命中の中国出土文物 [Cultural relics excavated during the Cultural Revolution] (Tokyo 1973), no. 20. Discovered during the Cultural Revolution, the cup was never published in a formal excavation report.
Two of the cups are illustrated and discussed in Qi Dongfang 齐东方, Huawu da tang chun: Hejiacun yibao jingcui 花舞大唐春: 何家村遗宝精粹 [Selected treasures from the Hejiacun Tang hoard] (Beijing 2003), cat. nos. 4 and 5. For the original excavation report, see also Shaanxi sheng bowuguan wenguanhui geweihui xiezuo xiaozu 陕西省博物馆文管会革委会写作小组, "Xi'an nanjiao Hejiacun faxian Tangdai jiaocang wenwu" 西安南郊何家村发现唐代窖藏文物 [Discovery of cultural relics from a Tang-dynasty hoard in Hejiacun, in the southern suburbs of Xi'an], Wenwu 1972, no. 1: 30–38.
---
Explore other Sogdian objects