-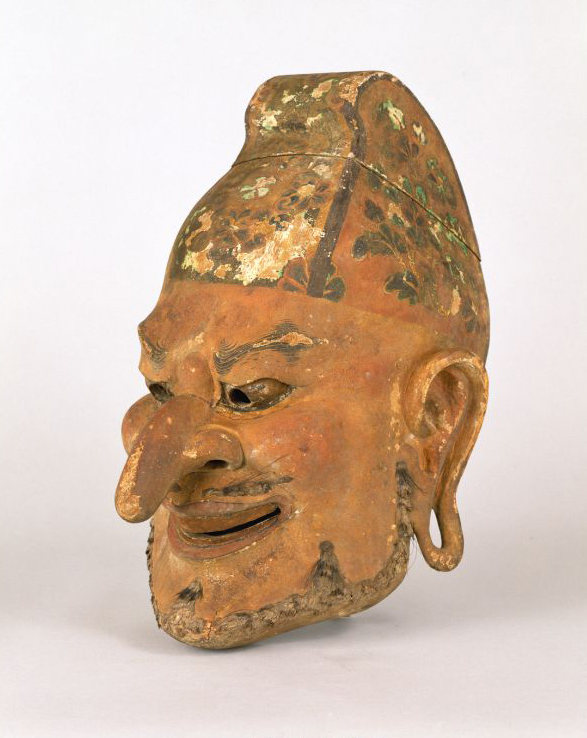 ---
Intoxicated Barbarian King
The histrionic character represented in this 8th-century mask is identified as Suiko-ō 酔胡王, or an "intoxicated (sui 酔) barbarian (ko 胡) king (ō 王)." The word barbarian is used here to translate the meaning of the logogram 胡 (Chinese hu, Japanese ko). In Chinese this was used to identify different ethnic groups—including the Sogdians—coming from territories to the west of China, in what is now Central Asia, or even farther west, to Iran.
Made of Paulownia wood, this mask is decorated with polychrome pigments, and horse hair serves in a realistic rendering of the beard and mustache. The perforations corresponding to the positions of eyes and mouth indicate that this mask was not merely a decorative object. In all likelihood, it was a prop used in a kind of performance known as gigaku 伎楽, an early form of masked dance-theater believed to have been brought to Japan from China in the seventh century. During gigaku performances, actors playing different roles wore an array of different masks, many of which survive today in Japan.
Although little is known about the performance, in a passage from a 13th-century work on music, Kyōkunshō 教訓抄 [Annotated Teaching], there is a specific mention of a gigaku piece entitled Suiko 酔胡 ["Drunken Barbarians"], which features the title characters performing an inebriated dance.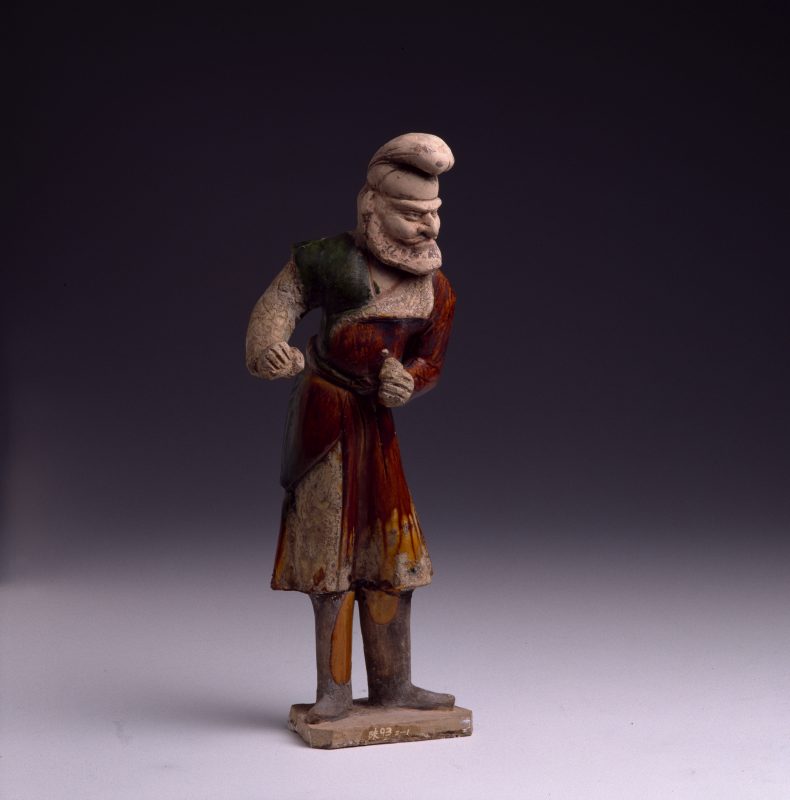 The foreign origins of the Suiko-ō are here implied by his exaggerated facial features. These include an aquiline nose, elongated earlobes, prominent cheekbones, and deep-set eyes surmounted by lashed eyebrows. Furthermore, pierced earlobes were not a customary fashion in Japan, and it has been suggested that the shape of the ornate cap worn by the Suiko-ō shows similarities to headgears traditional in Central Asia or the Near East; Fig. 1.
by Alessandro Bianchi
This mask is one of the many treasures preserved in the south storehouse of the Shōsōin 正倉院, the treasury of Tōdaiji 東大寺, a historic temple in Nara, Japan. Click here to access Shōsōin's official English web page.
Picken and Wolpert adopted the interpretation of 胡 as "Sogdian." See Laurence Picken and Rembrandt F. Wolpert, Music from the Tang Court (CUP Archive 1981), 1. In the same series, see also fascicle 2, page 11. Hayashi and Ricketts translated the word 胡  as "Persian"; see Hayashi Ryoichi; Robert Ricketts, trans., The Silk Road and the Shoso-in: The Heibonsha Survey of Japanese Art, vol. 6 (New York: Weatherhill; Tokyo: Heibonsha, 1975), 102. Yutaka Mino opted for the general meaning, "barbarian." See Yutaka Mino, The Great Eastern Temple: Treasures of Japanese Buddhist Art from Todai-Ji. Series: A Midland Book (Indiana University Press, 1986), 115.
Kyotaro Nishikawa; Monica Bethe, trans. Bugaku Masks, 1st ed., Japanese Arts Library, vol. 5 (Tokyo; New York: Kodansha International Ltd. and Shibundo, 1978), 21.
Various gigaku masks were reproduced in a miscellanea of Japanese art entitled Shūko jisshu 集古十種 (Ten Types of Collected Antiquities), which you can browse online by clicking here (National Diet Library in Tokyo, frame nos. 8–76). Other masks stowed at the Shōsōin can be looked up at their official web page by typing the keyword gigaku in the search bar.
Uehara Shōichi 上原昭一, Gigakumen 伎楽面 [Gigaku Masks], Nihon no Bijutsu 日本の美術 [Arts of Japan] 233 (1985): 92–93. An English summary of the passage from Kyōkunshō can be found in Ryoichi Hayashi; Robert Ricketts, trans., The Silk Road and the Shoso-in: The Heibonsha Survey of Japanese Art, vol. 6 (New York: Weatherhill; Tokyo: Heibonsha, 1975), 102.
Yutaka Mino, ed., The Great Eastern Temple (Bloomington: The Art Institute of Chicago in association with Indiana University Press, 1986), 116.
---
Explore other Sogdian objects