-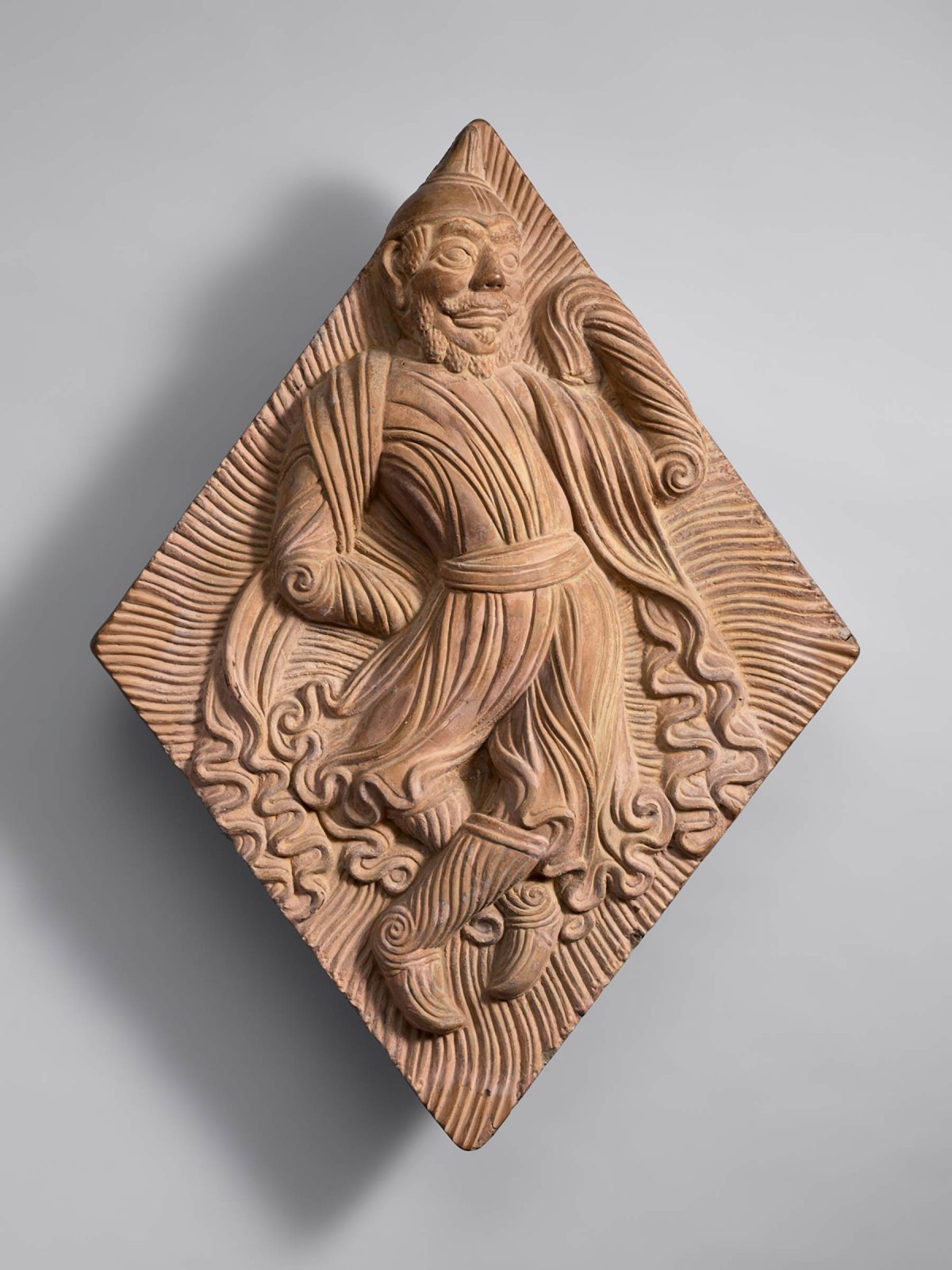 ---
Xiudingsi Tile
Not made in Sogdiana, this large, molded tile preserves a stereotypical Chinese view of an exotic dancing foreigner, possibly a Sogdian. The bearded figure, who wears a pointed cap, belted tunic, and boots, is caught in a moment of his dance, twirling on crossed legs while tucking his right hand behind his back and reaching up with his left. The excitement of the instant is amplified by the fluttering hemline and the energetic background pattern.
The methods used to represent him recall Central Asian painters such as the Khotanese Weichi Yiseng 尉遅乙僧, who flourished in China during the 7th century. Many such foreign painters are associated with murals in Buddhist temples, but they also painted on silk, according to historical sources. Descriptions compare their strong, unmodulated brushwork to bent iron rods or coiled wire. Although that exotic manner, also evident here, aroused Chinese interest, it never really entered the artistic mainstream.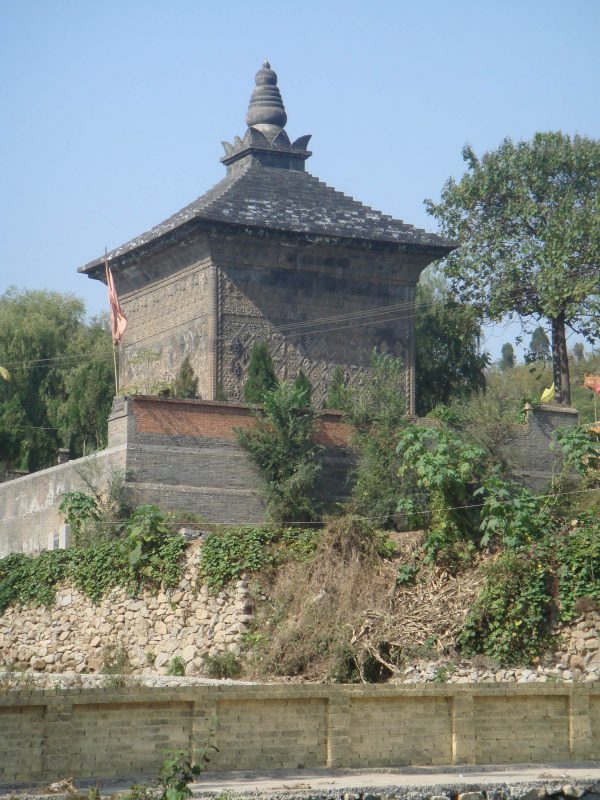 This tile was one of over 5,000 created to decorate the exterior of a single-story pagoda in modern Anyang , not quite 300 miles (460 kilometers) south of modern Beijing; Fig. 1.  The dancer repeats vertically in the same location on all four sides of the square building, just to the left of the Buddhist dharma wheel motif that marks the middle of each face; Fig. 2. He looks past the wheel to a second foreign dancer in an equally athletic pose. Twelve additional symmetrical pairs of motifs radiate out from the center to engaged columns at the edge. This design with vertical pattern repeats—and a simulated cornice and valence—suggest that the building imitates a fabric tent, not the wooden towers that were more often copied in Chinese masonry pagodas of the period.
The unusual building is the only structure remaining at the site. A fragmentary stele from the Tang dynasty (618–906) provides the name Xiuding Si 修定寺. The text also names the eminent monk Fashang 法上 (495–580), a highly respected Buddhist leader who served as abbot of the temple shortly after it was founded during the Northern Qi dynasty (550–577). Originally named Heshui Si 合水寺, the temple was closed during the brief Northern Zhou Buddhist persecution (577–81). The pagoda was added after the monastery was rededicated as Xiuding Si 修定寺.
by J. Keith Wilson
For a classic discussion of the subject, see Osvald Siren, "Central Asian Influences in Chinese Painting of the T'ang Period," Arts Asiatiques 3, no. 1 (1956).
Henan sheng wenwu yanjiusuo 河南省文物研究所, Anyang diqu wenwu guanli weiyuanhui 安阳地区文物管理委员会, Anyang xian wenwu guanli weiyuanhui 安阳县文物管理委员会, Anyang Xiuding Si Ta 安阳修定寺塔 [The Pagoda of Xiuding Temple at Anyang] (Beijing: Wenwu chubanshe, 1983).
---
Explore other Sogdian objects